Maple IDE
This page documents the basic functionality of the Maple IDE. Specifically, it describes the operation of the buttons on the main toolbar. It is expected to become more comprehensive over time.
If you're new to Maple, you should begin with the Maple Quickstart.
If you need to install the IDE for the first time, see the Maple IDE Installation page.
The following screenshot shows the appearance of a Maple IDE window: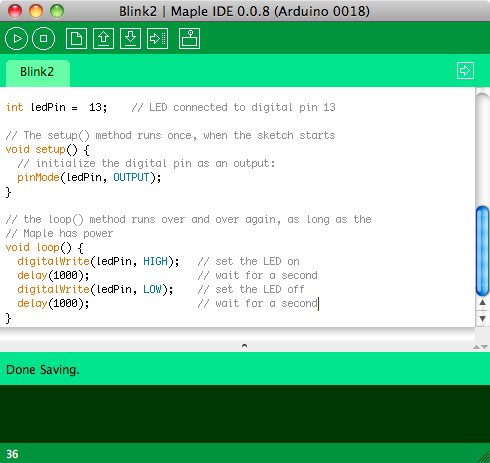 Note the toolbar buttons at the top; they're the icons with circles or squares around them. You can program your board mostly through the use of these buttons, which are described in the next section.
Maple IDE comes with a variety of sample code you can use to help you get started writing your own programs. To load an example in a new Maple IDE window, choose one from the submenus under File > Examples.